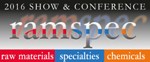 http://www.ramspec.eu/
The 2nd edition of "ramspec – Hall of Chemistry", will take place in Milan at Mico – Milan Congress in October 2016 from 12th to 13th.
"Ramspec" is the biennial exhibition and conference dedicated to the manufacturers and distributors of chemicals for various application areas such as:
Chemistry for Human Being (Agriculture – Food – Cosmetics)
Chemistry for the Environment (Water treatment – Detergents – Treatment, recovery and disposal of chemical wastes)
Chemistry for the Industry (Construction chemicals and derivatives – Coatings – Adhesives and Sealants – Inks – Plastics – Composites – Rubber – Wood – Abrasive and Friction Materials – Textiles – Leather – Footwear – Foundry – Metallurgy – Metal Surface Treatments – 3D Printing – Chemical Products)
Laboratory (Tests)
Production processes (Plants and Machineries)
European Chemicals legislation (REACH, CLP-GHS, BPR, PIC, ADR)
The mission is creating a technical advice interaction between exhibitors and visitors. Each exhibitor is required to make available to the visitor a technician to whom visitors will be able to address the issues that they could tackle in their manufacturing process.
Products list involved:
Additives and Auxiliary – Polymers and Resins – Natural resins – Extenders and Fillers – Pigments – Natural and synthetic dyes – Fragrances · Essences and aromas – Oils and Fatty acids – Natural substances – Extracts and Derivatives – Basic Chemicals – Process Chemicals – Natural and synthetic fibers – Solvents and Thinners compounds – Products for Water Treatment – Nanostructured – Ceramic and other various types of product.
Furthermore "ramspec" provides an overview on the use of new instruments and laboratory equipments and new technologies in production processes and related packaging.
"ramspec" unique biennial event for the whole chemical industry is a valuable tool to offer visitors the most complete, articulate and authoritative display of proposals and innovative solutions. It aims to be also a decisive answer to the industry, because in a single event ramspec it is targeted at users of chemicals in different industrial sectors.