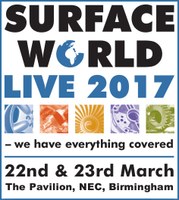 Surface World Live 2017 will be opening its doors on Wednesday 22nd March and Thursday 23rd March 2017. The exhibition is the UK's only event dedicated to the surface treatment, product finishing and coatings industry. It provides a major showcase for the very latest technology and developments in this important and expanding area.
At the show you will find many top names in the surface finishing industry exhibiting, with a wealth of experience on hand to provide solutions to your finishing queries all under one roof. By visiting the show you can save time and money. No matter what your question or latest requirement is, at Surface World Live 2017 you will find the answer.
To view the floor plan, exhibitor details and seminar programme, please visit www.surfaceworld.com
To register your attendance, please click 'Register To Visit Surface World Show'.
Should you require further information, please contact:
Hill Media Ltd, Marash House, 2-5 Brooke Street, Tring, Herts, HP23 5ED
Tel: +44 (0)1442 826826
Fax: +44 (0)1442 823400